Production line for making wet feed mixtures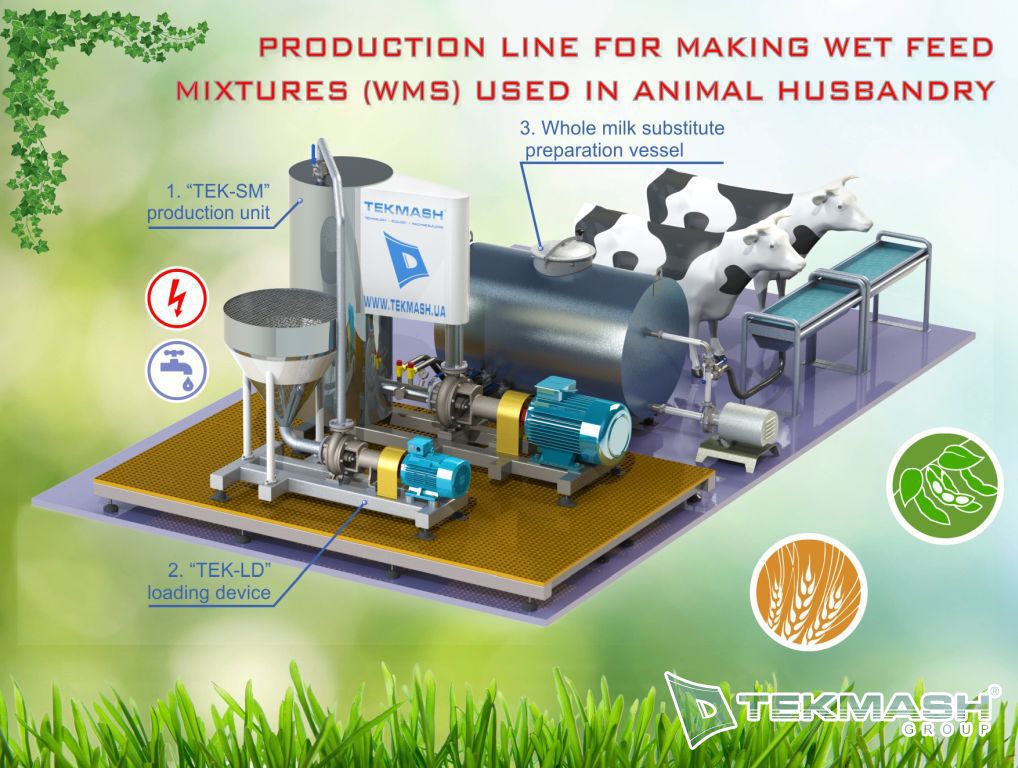 Production line for making wet feed mixtures (WFM) used in animal husbandry

Production line for making wet feed mixtures »
"TEKMASH®" technology provides fine grinding, mixing and thermal processing of mixtures by means of hydrodynamics (science dealing with liquid movement) with no heating elements used. It permits making 5-6 l vegetable milk using not more than 0.25 kWh electric energy.
While dry feed assimilation does not exceed 55-60%, "TEKMASH®" feed mixtures are 65-85% assimilated. The equipment is repaid within 6 months time, which makes the livestock industry not subsidized but profitable.
Concentrated sterile paste-like supplements (based mainly on peas, soybeans, lupine) are produced using TEKMASH® technology which preserves all vitamins and minerals, as opposed to cake or soya meal which contain much less useful substances.
The safe level of tripsin inhibitor (up to zero level) is guaranteed.
TEKMASH® technology enables:
to increase 2-4-month old pigs daily gains by 10-15% (for example, from 450 g to 520 g) due to supplying their ration with 1-2 l vegetable milk;
to increase cows milk yields by 1-3 l due to supplying their ration with 3-4 l vegetable milk;
to save up to $25-40 on each 6-month old calf when using vegetable milk (mainly soy milk) instead of skim milk or whole milk substitutes (WMS);
to increase fattening bull-calves daily gains by 150 – 200 g due to supplying their ration with 3-4 l of 10% vegetable milk;
to increase farm profitability two or more times due to higher weight gains and reduced feed cost;
to cut energy consumption 3-5 times while making wet feeds as compared to conventional technologies;
to introduce necessary mineral, biologically active and pharmaceutical substances while making feeds.
PRODUCTION LINE COMPOSITION: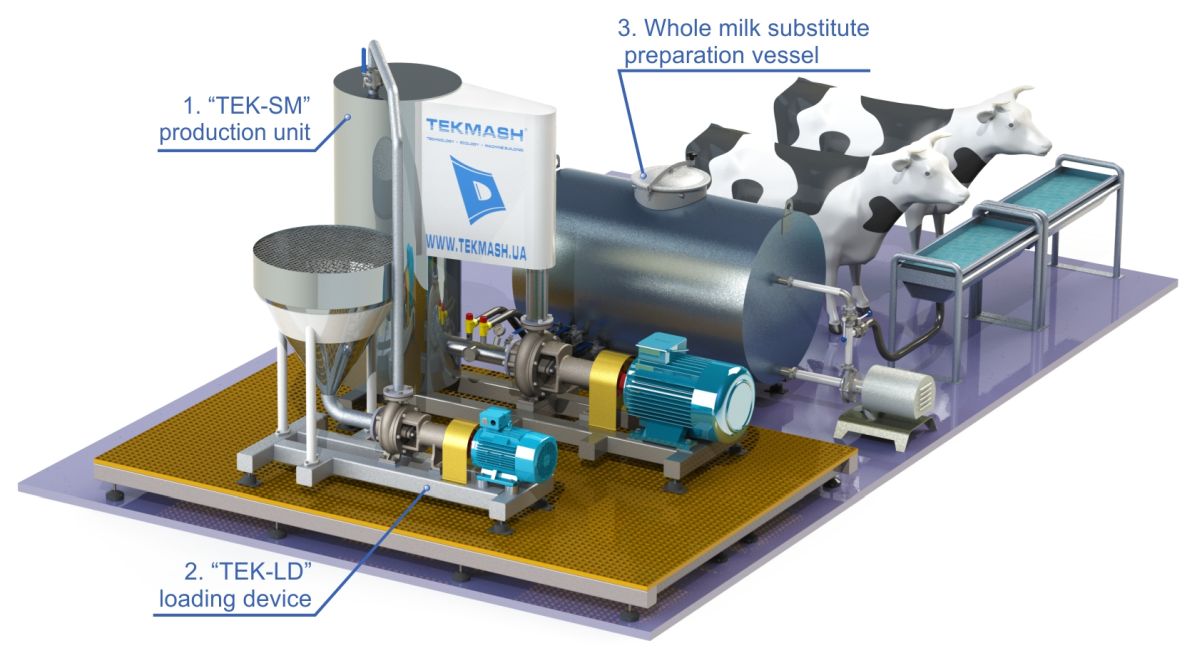 1. TEK-SM PRODUCTION UNIT
The unit consists of a pump with an electric motor, a bunker for loading the components (soybeans, wheat, peas, barley or other leguminous plants, water, supplements) and a special device to perform the mixture grinding, homogenization and thermal processing. The temperature of processing is controlled and maintained automatically.
The safe level of tripsin inhibitor (up to zero level) is guaranteed.
TEK-SM UNIT SPECIFICATIONS
Parameter
TEK-1SM
TEK-2SM
TEK-3SM
TEK-4SM
Motor power, kW
11
15
22
45
Processing temperature, °С
105 -110
105 -110
105 -110
105 -110
Capacity (milk, paste), kg/h
70/210
100/300
160/500
330/1000
Cycle duration, min
60
Overall dimensions, mm
1840
570
1650
2070
660
1650
2140
900
1700
2450
960
2200
Weight, kg
480
500
620
960
Servicing staff, person
1
1-2
The equipment is protected by Eurasian patents (9 countries), Canadian and USA patents on the technology and design.
2. TEK-LD LOADING DEVICE
The device is designed for:
increasing hydrodynamic unit capacity by 30-40%;
reducing manual labor share, thus cutting servicing staff from 2 to 1 person;
making various feed compositions without stopping the equipment.
OPERATING PRINCIPLE
Dry mixture (according to the recipe) is placed into the receiving bunker, passing through the net to remove foreign objects.
A certain amount of water or another liquid (for example, skim or substandard milk) is added.
The raw stuff is soaked in the TEK-LD loading device simultaneously with feed preparation in TEK-SM unit.
On completing the boiling process in TEK-SM, another portion of raw stuff is fed to the tank by the TEK-LD pump.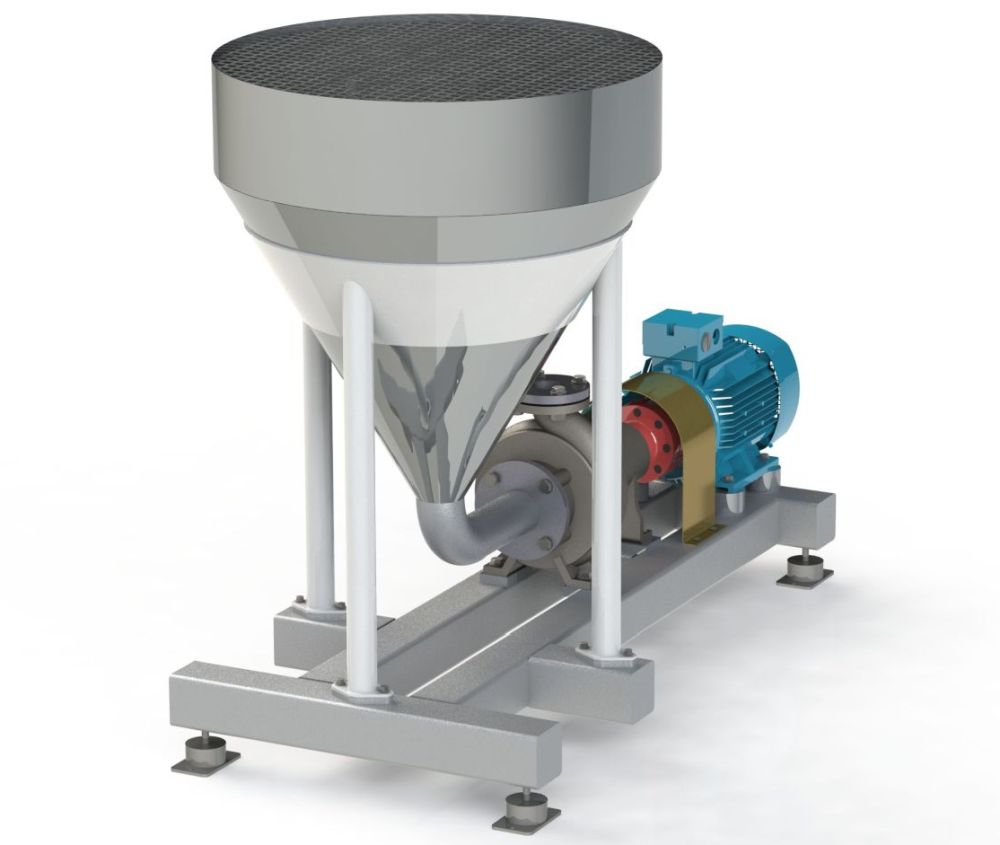 SPECIFICATIONS
| | |
| --- | --- |
| Electric pump installed power, kW | 5,5-7,5 |
| Operation mode | batch |
| Feed volume, l, up to | 100-400 |
| Batch processing time, min, not more | 2 |
3. WMS PREPARATION VESSEL
The vessel is designed for making whole milk substitute by mixing the mixture from TEK-SM unit and water.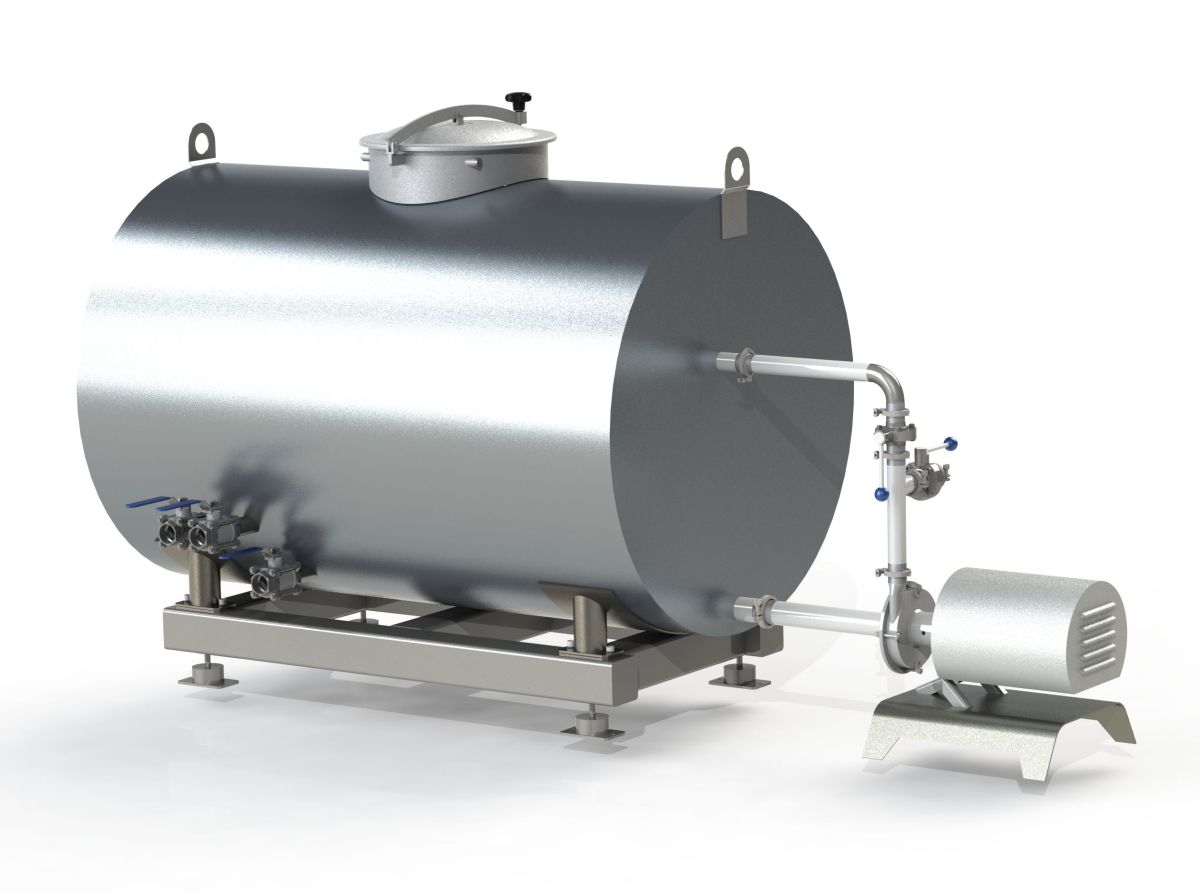 RECOMMENDED PARAMETERS:
Parameter
TEK-1SM
TEK-2SM
TEK-3SM
TEK-4SM
Vessel volume, l, up to
300
450
750
1500
Motor power, kW
0,55-1,5
1,5-2,2
Pump capacity, m3/h
6-10
10-30

Production line for making wet feed mixtures »
←
To all units