TEK-PD cavitation-type dispersing pump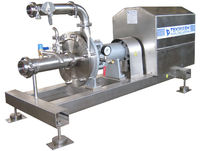 27 January 2012 year.
SIPE TEKMASH Institute offers dispersing pumps for making fine-dispersed food emulsions and suspensions, 10-25 m³/h capacity.
The equipment can be used for:
- restituting dry milk;
- making milk products: sour cream, ryazhenka, kefir;
- making ice-cream mixtures, soft cheese, mayonnaise, spread;
- making condensed and boiled milk;
- making syrup, confectionary fillings, cream, icing;
- restoring juices and fruit drinks;
- making fruit paste;
- making sauces, ketchups, mustard, etc.