Milk Pasteurizer - homogenizer (equipment)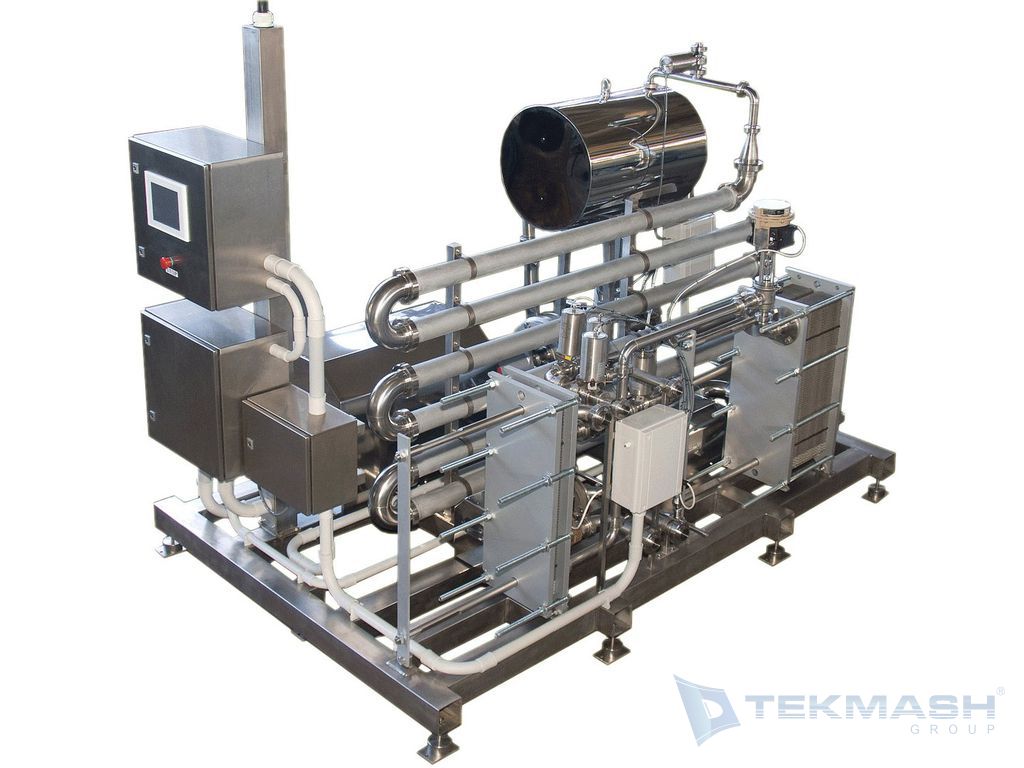 Diary pasteurizer »

Questionnaire »
TEK-PH milk pasteurizer performs direct heating, pasteurization, homogenization of milk, milk mixtures, egg liquids and other food stuffs.
It has a number of indisputable advantages as compared to conventional equipment:
-it combines three operations: pasteurization, homogenization and holding, which is conducive to pasteurized product higher quality and 25-40% cost reduction;
-as convective heating surfaces are missing, the product is not scorched, which contributes to its quality;
-unit design makes it possible to heat, pasteurize, homogenize and discharge the product at a required temperature which is especially important in milk industry, as the product can be discharged at, say, ripening temperature, thus minimizing production cost by denying heating to this temperature;
-use is made of heat recovery.
Milk pasteurizer TEK-PH specifications
Parameter
ТЕК - 1PH
ТЕК - 2PH
ТЕК - 3PH
ТЕК - 4PH
Pasteurization (sterilization) temperature, °C
50-115
Motor power, kW
7,5
11 - 15
22 - 30
45 (55)
Capacity, t/h
0,4 - 0,6
0,8 - 1,5
1,5 - 2
3 - 5
Voltage, V
380
Phase number
3
Power consumption, kW
6 - 8
10 - 12
18 - 20
40 - 52
Overall dimensions, mm
1300
1100
1200
1300
1200
1200
1700
2100
2000
2900
2100
2000
Weight, kg
300
380
540
720
On special order we can make TEK-PH pasteurizer with required pasteurization capacity.
Basic advantages of hydrodynamic units for milk pasteurization (homogenization):
combination of three processes in one unit: mixing, pasteurization (and holding if necessary) and homogenization, which reduces production cost by 40-60%;
high efficiency (not less than 90%) which makes the equipment very economical;
the unit can be used for making combined milk products containing vegetable oil;
as convective surfaces are missing, the product is not scorched and milk stone is not deposited, as is the case with analogous equipment, including infrared pasteurizers;
milk acidity higher than 18oT does not preclude pasteurization;
high unit operational readiness makes it possible to install and start it up within one workday;
low energy consumption, 10 kWh ensures 1 t product pasteurization, the same figure for infrared heaters being 15-18 kWh; 
equipment versatility makes it possible to use it for maintaining temperature at other technological equipment (baths, technological vessels with compensating jacket column, starter cans, etc.), for getting wet steam and warm water for daily needs, etc.;
the equipment can be used for washing technological equipment;
ecological friendliness.
Warranty period is 1 year.
←
To all units