Juice and fruit puree pasteurizer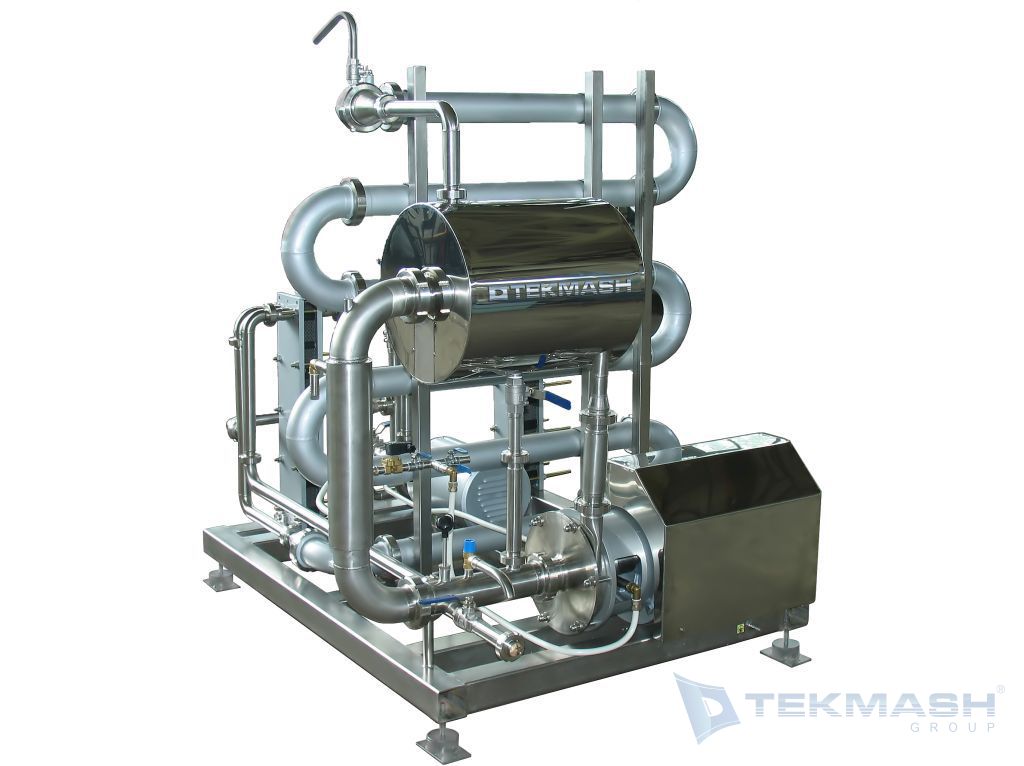 Pasteurizer-leaflet »

Questionnaire »
We provide an innovative technology and manufacture unique equipment for pasteurizing, sterilizing, homogenizing juices and fruit puree in the production line. Juice pasteurizer design is based on using hydrodynamics.
Thermal processing is aimed at preserving juice natural properties. The process of heating is very sparing which ensures all useful elements preservation.
TEKMASH offers a solution which is most suitable for processing juices and fruit puree and reduces the product losses to zero.
High efficiency is achieved due to heat regeneration and low energy consumption which reduces the cost of the finished product.
The equipment contains no heating surfaces, it does not use steam or hot water. Heating is performed by HTD-technology based on hydrodynamic processes. The absence of convective heating surfaces denies product burning.
Equipment advantages:
Finished product low cost is due to:

- 10-12 kW*h for pasteurizing 1 t product;
- high efficiency – not lower than 90%;
- cold bottling using modern packaging;

product high quality and long shelf-life;
production process independence on gas supplies.
Parameter
ТЕК-1PH-J
ТЕК-2PH-J
ТЕК-3PH-J
ТЕК-4PH-J
Pasteurization (sterilization) temperature, °С
50-115
Motor power, kW
7,5
11-15
22-30
45-(55)
Capacity, t/h
0,4-0,6
0,8-1,5
1,5-2
3-5
Voltage, V
380
Number of phases
3
Average power consumption, kW?h
6-8
10-12
18-20
40-52
Overall dimensions, mm (basic packaging arrangement)

1300
1100
1200

1300
1200
1200

1700
2100
2000

2900
2100
2000
Weight, kg
300
380
540
720

←
To all units